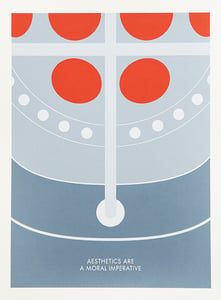 $

20.00
9" x 12" poster screen-printed on high quality Cougar paper stock. Inspired by the game Bioshock. It features the line "Aesthetics are a moral imperative" seen scrawled on the ground in the crumbled underwater city of Rapture.
This poster was originally available exclusively as a premium to backers of my original Kickstarter project. This poster is smaller than the others and doesn't feature the textured effect the others do, I've had some people tell me this is their favorite.
Signed and numbered.
FOR A LIMITED TIME: Every poster order will come with a FREE random second poster. Could it be a poster available here? YES. Could it be a poster that is no longer sold anywhere? YES. That is why it is RANDOM.
Be sure to check out my other stores at Society6 for MORE posters, t-shirts, iPhone Cases/Skins and framed prints!